Year 3 Egyptian Day!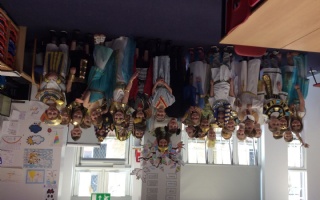 A wonderful day of Egyptian celebrations!
This term Year 3 have been learning about Ancient Egypt. On Wednesday, they travelled back in time to Ancient Egypt for a day of celebrations!
The day began with a fabulous class assembly performance to parents, carers and the rest of the school. Pandas class wowed the audience with their creative costumes, fantastic dancing and confident speaking parts.
The children then enjoyed a cooking activity where they had the opportunity to make their very own Egyptian mahlab bread. They used their weighing skills, which they had learnt earlier this term in their maths learning, to follow a recipe.
Next, the children designed their own Shaduf. A Shaduf is a hand-operated device used in Ancient Egypt to lift water from the river Nile to irrigate the land. The children followed their plans to make a model and evaluate their final product. Later in the day, the children also made their own clay jewlery and bowls.
Year 3 had a fantastic day and we would like to say a special thank you to all of our year 3 famillies for your support with providing the most wonderful costumes.