Joe Wicks School HIIT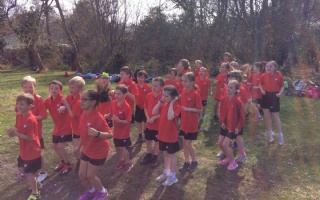 Fit & Fruity Friday with Joe Wicks!
St John's Year 4 children had a fantastic opportunity last Friday. They were invited to Springdale First School, to take part in a HIIT (High Intensity interval Training) session led by Joe Wicks. Our children (and staff) were excited to attend this event along with 700 other pupils. This was Joe's last stop on his Schools HIIT Tour and he said it was the best crowd he had seen yet.
On our arrival, sports leaders led us in a warm-up shortly followed by some active games to play as a school. The children then lined up, waiting in anticipation, chanting "Joe Wicks, Joe Wicks." Before long, he was running through the crowd to his platform stage. We then took part in a 25 minute HIIT session; squatting, jumping, lunging and so much more. This was then followed by a Q&A session with Joe Wicks, where children heard him talk about having a healthy lifestyle. He was keen to stress that this involved having healthy eating habits alongside exercising. Although we never got our photo with Joe, the children thoroughly enjoyed their informative and active afternoon in the sun.