Year 4 Carolling in the Community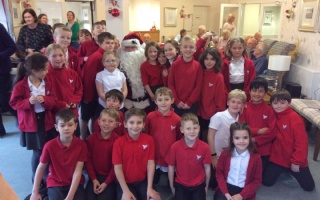 As responsible and admirable members of our Church School, Year 4 have been spreading the spirit of Christmas through song to members of our community.
Visiting both Harelston House and Bennett Lodge in Wimborne, Year 4 performed Christmas songs to members of our community on Monday the 16th and Tuesday 17th December. The children met some of the residents to share their Christmas cheer and even had the opportunity to meet Father Christmas himself when he arrived during their performance at Bennett Lodge. Thank you to the parent helpers who supported us on our Christmas mission to spread the joy of Christmas at this festive time of year. Well done Year 4 to bringing joy to members of our community, you made us all feel extremely proud. Check out the gallery to see more pictures of Year 4's fantastically festive Christmas carol singing visits.