Marvellous Mathematicians!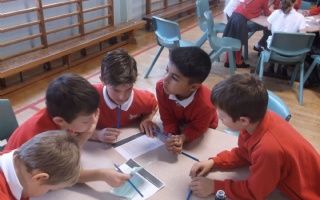 Snow Leopards went to St Michael's Middle School for a day of Mathematical problem solving...
Snow Leopards (Year 4) had a wonderful day on Wednesday 15th November at St Michael's Middle School with Angela Gould, solving a wide range of mathematical problems with children from Hayeswood and Colehill First Schools. They tackled all the challenges with great enthusiasm and were a credit to themselves and St John's with their can-do attitude. It was a great opportunity for them to apply their mental arithmetic and logical reasoning skills. The highlight of the day was creating pyramids big enough for a child to sit in using nothing but A4 paper!